Convention Goers
Posted on by gcsfmanager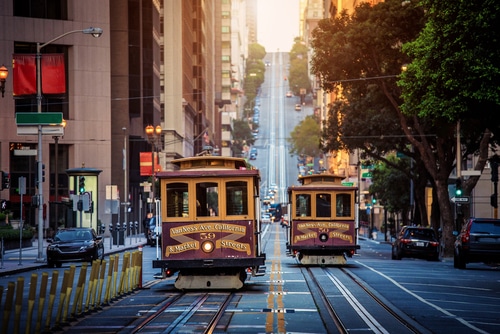 Planning to attend an upcoming convention in San Francisco? Whether it's business or pleasure that brings you to one of the many San Francisco conferences, conventions, and meet-ups, you'll quickly discover that the city has so much to offer after your venue's doors have closed for the evening.
After the day's convention activities and special events have come to a close, don't make plans to head back to your hotel room just yet – there's still plenty of fun to be had. Gold Club is one of the city's premier gentlemen's clubs, serving as a popular destination for San Francisco convention attendees and exhibitors who are interested in sexy, classy fun.
A Top Choice for San Francisco Convention Goers and Business Travelers
When California conventions wrap up for the day, attendees have no shortage of options when it comes to exploring the Bay Area's nightlife.
But convention exhibitors, attendees, and business travelers alike know that there's only one place in San Francisco that can offer a five-star sultry experience that exceeds every expectation: Gold Club. As San Francisco's number one club for conventioneers and business visitors, we've perfected the art of elegant, seductive entertainment.
When you have limited time to spend in the City by the Bay, why waste a minute of it at clubs that simply don't measure up? Here, you can make the most of your free time and experience one of the best gentlemen's clubs in San Francisco.
Sensual Entertainment, Top-Shelf Liquor, and Delicious Food in an Upscale Environment
After a long day of convention events, most attendees and exhibitors alike simply want to kick back, relax, and enjoy the rest of their evening.
Classy, welcoming, and luxurious, Gold Club is the ideal space to get the old-fashioned R&R you need to recover from a long day.
Here, you can look forward to indulging a wide range of delightful desires:
Stunning, talented topless dancers who love to please: Our gorgeous, friendly entertainers are here to treat you to the show of a lifetime, whether you're soaking up their performances on the main stage or getting a more intimate experience in one of our numerous private areas.
Gourmet dishes to satisfy your appetite: Our chef-crafted menu holds its own with many of the best restaurants in San Francisco, making us a foodie favorite in the Bay Area.
VIP bottle service with all your favorites: Raise a glass to a successful convention day with top-shelf liquors, wines, cocktails, and more.
A comfortable space to wind down after a busy day: In addition to the main stage seating areas, you can also relax at our VIP tables, in the intimate dance areas, or in our private skybox suites.
Conveniently-Located Adult Entertainment in San Francisco
The red-hot entertainment and unparalleled service of Gold Club are within easy reach of nearly anywhere in the city, located just south of the bustling Financial District.
Situated near popular convention and event venues such as the Moscone Center, Chase Center, and Oracle Park, Gold Club makes it simple to treat yourself to an evening of beautiful women, premium drinks, and chef-crafted meals.
Make Your Reservations for a Visit to Gold Club
If you're headed to San Francisco to attend or work at a convention, or simply have work to do in the city, reserve your spot at Gold Club now. Our staff is happy to help you plan a private business event, such as a client meet-up, or even just a casual get-together with your colleagues.
Request your VIP reservation today or contact Gold Club for more information about available venue services.
Image Credit:  Shutterstock/canadastock